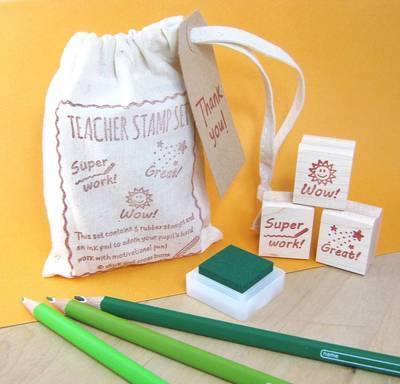 Teacher Rubber Stamp Set
Designed with teachers in mind, this selection of rubber stamps is a fun but practical gift for your children's teachers as an extra special thank you at the end of term or at Christmas. They'll be inundated with chocs and wine, which are always appreciated but this little set will be a truly unique gift which they can use all year round.
The Teacher stamp contains three rubber stamps and an ink pad to help adorn their pupil's hard work with motivational fun! The three stamps say Great!, Super work! and Wow! each with their own motif.Teacher's assistants are worth their weight in gold too, so this set would be a lovely token of appreciation for them also.
The cotton drawstring bag containing the stamps is 100% natural cotton and hand stamped by me with the design for a lovely handmade touch and has a coordinating hand stamped 'Thank you/To: From:' kraft gift tag attached.
Ink pad colour may vary from colour shown but will be bright and colourful to stand out against the page.
All stamps in this set are mounted on 25mm (1") square blocks, sizes vary depending on each design. Ink pad enclosed is 25mm square (1") . Cotton gift bag ungathered approx. is 9.5cm x 13.5cm (5 1/4" x 3 3/4").