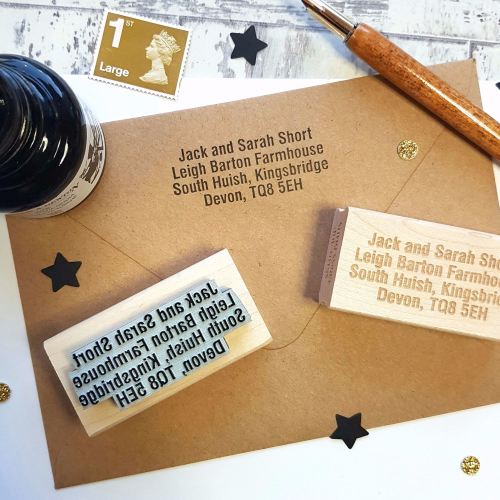 Personalised Custom Address Rubber Stamp
Personalise your own rubber stamp with your address.
Poor handwriting and the lack of a return address are the main causes of lost items in the mail but this problem can be solved with the use of an address or return address stamp, ensuring the safety of your mail.
Stamp up the middle of Christmas cards to share a new address and on the back of envelopes and parcels with other stamps in the Skull and Cross Buns range to complete the hand finished look. Makes a simple but effective stamped letterhead too!
Use on luggage tags when you travel to stop your cases going astray too. You can always add your telephone number within the personalisation as well for an easy way to share contact details.
Can personalise up to 24 characters per line over five lines; choose from 6 clear to read font styles.

The stamped image is mounted on a 6cm x 2.5cm block. Actual stamped image size varies depending on personalisation required and font chosen.